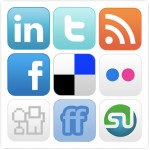 Social media, including sites like Facebook and MySpace, micro-blogging platforms like Twitter, and sharing/bookmarking tools like Digg, Del.icio.us and Stumble Upon are all very important to your outreach to customers, not to mention the incoming links they provide, and the potential of exponential viral traffic.
Add to this the need for regular blogging (on your site and other platforms) and email updates, and the management of all this online communication becomes daunting. What if there were a way to integrate all of your modes of online presence, so you'd only have to post once to update all of the different platforms? Well, the short answer is: there is.
I've been working with a local organic farm to update their online presence, and we've come up with a very simple implementation of WordPress that cross-posts to Facebook Pages and Twitter. Every blog post automatically creates an entry with linkback on Facebook Pages, and an accompanying Tweet with linkback. It has been a great way to keep the farm's audience informed and engaged.
Additionally, we've added bookmarking links for all of the major social media platforms and favorites keepers, thus adding to the potential for viral sharing.
I'm also working on a mailing list that further integrates with WordPress, and it's looking very promising. There is a new WordPress mailing list plugin that allows opt-in or manually entered mailing list clients to manage automated subscriptions to blog and page updates, and allows administrators to manage multiple mailing lists, and send newsletters and alerts. It integrates with the website seamlessly and also has WYSIWYG editing.