I'm very excited to help out with Chattanooga's premier TEDx event: TEDxChattanooga.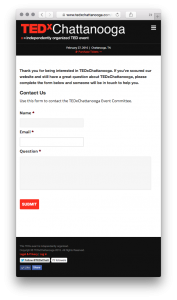 For this site, I chose a responsive Bootstrap 3 SASS WordPress theme, originally developed for TEDxToronto. I made a few tweaks and improvements to better fit our event, and worked with April Cox from UT Chattanooga to dial in the design and architecture. Developed on an Amazon EC2+Ubuntu+Webmin server running a Nginx+MySQL+PHP-FPM stack, the site should handle plenty of traffic, and can be scaled up to meet spikes in demand coinciding with the event.
Please check out TEDxChattanooga.com!
Love Open Source software, but hate the generic branding? No problem. It's very simple to create a fully-branded login screen for WordPress and Webmin/Virtualmin, to match a client's logo and color scheme.
---